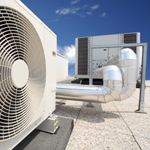 The Commercial Department at Right-A-Way, LLC is here to serve all your needs, from light commercial to industrial HVAC applications. We are a company that is committed to excellence in every aspect, from installation to service to customer care. Give us a call and let us take care of all your commercial needs.
Heating and Cooling
We are experienced in the installation and servicing of all types of commercial HVAC equipment, including:
Rooftop Units
Split Systems
Boilers
VAV Systems
Temp Control Systems
Exhaust and supply fans
Make-up Air Units
Clean Rooms
We are licensed for up to 5 tons of cooling capacity per unit.